by Justin Ware
At the beginning of modern sketch comedy came Monty Python. This band of Brits with a nonsensical name took television and twisted it to their own skewed sense of silliness, redefining comedy and setting the stage for a thousand copycat acts. It should come as no surprise, then, that the Web would fall prey to Python humor faster than an African swallow: It is, after all, the next great frontier, and Python has already left its mark on every other entertainment genre. Now it's their turn to take that silliness to the Web through PythOnline (www.pyth online.com). Though the site was the brainchild of Eric Idle, all of the remaining Pythons (John Cleese, Michael Palin, Terry Jones and Terry Gilliam) are contributing with a fervor you might not expect from a group that's now scattered across the globe. And it's not that the troupe lacks things to do -- all by his lonesome, Idle, not only heads up the Web site, but he devotes an enormous amount of time to Python's plentiful CD-ROMs. He also recently wrapped a role in a film directed by Jones for Disney and finished a children's book due out this fall. IU caught up with Idle to ask how he and his compatriots plan to Pythonize the Web.
---
Internet Underground:
Where did the initiative for PythOnline come from?
Eric Idle:
It came from me, and it came about 18 months ago when I was scanning the 'net and did a search for Monty Python. I stopped when I got 1,034 replies -- I was completely bowled over and amazed. So I went and looked around some of the sites. I thought they were very good and very interesting, but I thought, you know what would be really great? To have a real Python site, rather than a fanzine-type-based one, which is just trying to be serious about this. It would be great to have a non-fanzine-type-site which is pure Python, more like the books. I began to envision sort of an interactive book/magazine-type site, and I came up with the name PythOnline. I figured it would be great to link to all these other Python sites, so they could just all have a central base where we were sort of available, or they could get real serious questions answered that they wanted to ask, or we could just put up silly stuff. I'd always in the back of my mind wanted to be with 7th Level, because I was doing the Holy Grail CD-ROM at the same time, and I love them all there -- they're so silly and loony, it's one of the nicest silly companies I've ever worked with.
IU:
So, assuming they're the ones doing the programming, what's your role been with it?
EI:
I run around and give them ideas and material. I'm acting as sort of an editor or Webmaster or something. I provide them with the material and all the ideas, and they back me up with artists and programmers and the know-how. We're playing with a new thing called Top Gun, which 7th Level has developed, which enables us to actually have live games on the site, one of which is Drop the Cow, from the new Grail (CD-ROM). You have to avoid the cow landing on your head.
IU:
So was there a similar beginning behind the CD-ROMs? The Pythons always seem to be on the cutting edge of technology.
EI:
Absolutely. And what's great about it is the people in that new technology, they're all Python fans. It makes a natural marriage.
IU:
Why do you think that is? Why do you think that technology people are so attracted to Monty Python?
EI:
I think because it's bright, and yet it's silly. I don't know -- what really amazed me was that almost everybody with a computer was a Python fan. It's like the Rolling Stones and Monty Python. The very phrase "spamming" the net comes from Python. I don't know why that is -- I'm not a psychologist but I just observed that it is true, and that means that it's worth doing -- entertaining with silly things -- because a lot of people are out there waiting for it.
IU:
Are the other Pythons contributing?
EI:
Very much so. I've badgered them and bullied them and e-mailed them constantly. We have a lot of new art from Terry Gilliam, because he's scrawling all the time, and he's very much set the tone of the look of the Web site, which is very much black and white, because everyone else is using massive color, so we'll avoid that. He's done these wonderful line drawings, and I've gotten a lot of material from Terry Jones, and some lectures from Cleese -- some very silly stuff from him. Michael Palin's at the moment halfway around China, and will be coming through in July, and we'll grab him then. He's been going around the Pacific Rim.
EI:
Exactly. So we'll grab him and he'll provide some stuff too.
IU:
What do they think of the technology? Are they as computer literate as you are, or are you kind of ahead of the curve?
EI:
Two of them are. I mean, Jones is very computer literate. He sent me some photographs (over the computer) the other day, which I thought was very impressive. Gilliam is in England, and it's always frustrating in England, because it's there, but it doesn't really work properly. That's why I love living here, in the States, because the toys are all here, and you can get them sooner, and they're not closed for the weekend, or the month of July, like they are in Europe. But Cleese is not very technologically inclined and Michael sort of seems to be against it.
EI:
Even using a pencil. But I'd like to send him off on a worldwide trek on the 'net. I'd like to see him go online and I've been trying to persuade him to do that. He's a bit frightened of it, but we'll get him there.
IU:
You mentioned a little bit of what the site is going to be about. Can you go into how you're going to keep it kinetic?
EI:
Well, we're going to use animation a lot, and if you download Top Gun you'll get into a much more active site. I'd like to explore ways of making people laugh, really, and see how much you can involve them. In many ways we've taken the attitude that "Look, there's not much out there to laugh at." What I would like to do is play a lot of gags on people as they log on, and we're getting into that. Still, the technology is just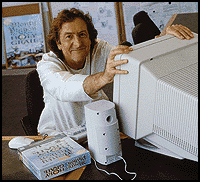 lagging behind. It's painful for me sometimes that it takes so long to get the gag up -- I want to hit 'em on the head now. So half the time I'm just trying to get it faster from 7th Level's Headquarters. But I really like making up the form of the material as well as the content. In other words, when we have the Queen online, you feel she's in the chatroom, that she's actually there. Now that's a new joke -- nobody's done that sort of a joke before and I love that.
IU:
It seems that with the Web, there's no set way to be funny.
EI:
But that's exciting. Nobody's done it before. You have this whole blank sheet of paper. It's sort of equivalent to when we got into television -- we could just play with the toys. And that's where we are now. I'm hopeful that we'll get the Pythons contributing from wherever they are, which is the other great thing -- no matter where you are in the world, you can play along. Once we have the site up and running, they can log in and do whatever they want.
IU:
What kind of challenges and difficulties do you see with the site, and trying to do comedy this way?
EI:
I think that it's all a challenge, but none of it's difficult because it's all never been done before, and that makes it exciting. Every day we make up new stuff. We say, what shall we do? Well, how about if we do this? How can we amuse them, tease them, please them. I really like it -- it's the most fun I've had since we first went into television.
IU:
So how long have you been on the 'net and how did you initially get involved with it?
EI:
A friend of mine, Stephen Fry, has a page which he was very keen on showing me about a year and a half ago. But what's nice for me is working with a high-tech company, so instead of having just a homemade Web page, you have all the real big toys. You can say "give me some challenges. What can I really do?" And that's the great fun of working with 7th Level on this. Plus the other great advantage of the Web is that we have a lot of Python shit, like Grail calendars, and datebooks, and very nice, cool T-shirts and Spam mugs and it's a great way to show people. Whenever they come to our houses or see us, they're like "Where'd you get that? I want that!" And it's very hard to get that all to work, because some of it's made in Australia, and some of it's in Germany. But with the Web, you can say, "Well look, you can just click and order, and we'll send it to you."
IU:
So have you surfed around much and seen anything else?
EI:
I've been so busy, I haven't. I basically use the Web to tell me when soccer's on American television. Unfortunately there's no cricket on American television, but I'm hopeful. I use it to find out the cricket scores in England. And I use my computer a lot as a writing tool -- I have for four or five years. But the fun I'm having now is actually pulling up Gilliam animation stuff and playing with it. You know, going into Paintshop and putting text on it...just generally creating. It's the same as when I was editor of the Python books. Basically you took the Python stuff and you'd say, how would it work in book form? Now, it's really a matter of taking all this stuff that people don't know about, that's obscure and weird and still funny, and putting it into this new form to see if we can entertain them and make them laugh.
IU:
But you have been using e-mail for a while.
EI:
I love e-mail. It's the only mail I like. I hate post offices. I have a fear of post offices, and it isn't just American post offices where you can get killed by disgruntled former employees -- I think there's something about people that work in post offices that daunts the customer. They're not customer friendly. I love writing letters and I've always loved writing letters, and what's great is to be able to write things, hit send, and "bang!" It's gone.
IU:
So did you actually e-mail people at any of these sites?
EI:
I only did that once and it's not a good idea. Although we will have a site, I think, where people can ask questions as long as it doesn't go nuts.
IU:
I'd imagine, with the number of Monty Python fans on the 'net, that that's probably a floodgate that you wouldn't want to open.
EI:
We had 160,000 hits before we opened. My instinct that they were out there and wanted it is being borne out. They do want entertainment, and they do want to laugh and nobody's playing with this toy. I love being there at the beginning.
IU:
So you have seen the fan sites?
EI:
Oh yeah, I've gone to the fan sites. Not all of them, cause there are over a thousand of them, but we'll link to the best ones. We give them mention so fans can come through us and go on to these sites. But we're not really into the fan stuff quite as much as the fans are -- I mean, we don't say how cute we all are. We go the other way.
IU:
What's your reaction to the fact that there's still this much devotion to Monty Python?
EI:
I think it's amazement and then gratitude. Of course, if you all sent a penny we could all have a golden retirement. We'll see if we can make it pay -- that's the challenge.
IU:
It certainly hasn't been figured out yet.
EI:
No. But again -- that's a day-by-day thing. We're making it up as we go along.
IU:
Have you seen the site "Eric Idle Drove My Car?"
EI:
Somebody showed it to me the other day. It was hysterical. We chose it as our site of the week, and it's just wonderful. When we told him we were going to feature it, he said he was going to make another site called "Eric Idle Visited My Web Site." It would just be disappearing into infinity. But I like that -- we're encouraging people to come and nominate silly sites, and things they've found. There will be message boards, a Swedish Message Board and all that sort of thing, plus humor. Humor, information -- anything to keep people exchanging on a bright level.