Arnie Wexler hasn't placed a bet since April 10, 1968.
When he finally conquered his compulsive gambling problem, he was 30 years old and owed 32 people three years' worth of salary. Wexler wasn't only in bad financial shape; his gambling habit had also taken an emotional and physical toll. "At the end, I was contemplating suicide because I had $5,000 of life insurance, and I thought the best way I could help my wife and two kids was to kill myself," says Wexler, who began gambling at age 7, flipping baseball cards, shooting marbles and pitching pennies.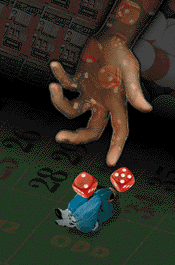 At 17, to support his gambling addiction, Wexler stole for the first time. "I needed to gamble, like a drug addict needs to stick a needle in his arm," he recalls in a melancholy tone. Before he finally sought help, Wexler's gambling activity ranged from $400-a-week lottery ticket splurges, on a weekly salary of only $125, to penny stock schemes. He placed wagers on hockey matches, even though he had never seen a game. "I bet $10,800 on three football games once, and I couldn't name five football players in those days," he recounts. When he finally sought help from an organization for compulsive gamblers, he thought that "help" meant that "they were going to pay off my gambling debt." Instead, he ended up on a strict budget and had to work three jobs for three years before returning to financial normalcy.
Today the 52-year-old Wexler is an outspoken crusader against compulsive gambling, the hidden disease that he estimates plagues 5 percent of the population. He and his wife Sheila travel the country conducting workshops and helping set up treatment programs. With legalized gambling a fast-growing nationwide phenomena, Wexler has been a busy man. "In places they have been able to do before-and-after surveys," he explains, "the number of people hooked is three to five times higher after gambling has established itself."
It is with that statistic in mind that Wexler casts a suspicious eye toward the Internet. A self- proclaimed computer illiterate, he nonetheless fears the Internet's vast potential to bring casino and sports gambling into people's living rooms and offices. "The country is exploding with legalized gambling," Wexler laments, "and now you have the Internet, which is going to be a major factor and problem."
The legality of U.S.-based virtual casinos is disputable, but a handful of wagering pioneers have already made agreements with foreign governments, allowing them to run "legitimate" gambling servers legally. To gamble at these casinos, potential bettors are asked to overnight or wire money to offshore bank accounts -- usually in the Caribbean. Accounts are then set up, and the gamblers are free to wager online. Advances in secure forms of Internet commerce such as safe credit card transactions, DigiCash and CyberCash, should further spur the gambling frenzy these online sportsbook, lottery and casino operators are hoping for. Eventually, anyone with a computer and modem will be able to make enough to pay off their car (or blow the family savings) without having to leave their home.

To date, gambling in cyberspace remains a minuscule commercial entity, in part, because the Justice Department, the FBI, the IRS and several states' attorneys general have asserted that 'net gambling is illegal. "The legalities are extremely murky," explains Eugene M. Christiansen, president of Christiansen Cummings Associates, a New York City consulting firm that specializes in commercial gambling. "The Washington government seems to be in the process of making up its mind that gambling on the Internet is illegal. The likely future is that it will be reflected in an act of Congress or in judge-made law."
At present, the debate over online gambling's legality is most muddied by the Interstate Wire Act, passed in 1956, which makes it a felony crime in the United States to transmit bets or gambling information by telephone, across state lines or to foreign countries. Early Internet wagering pioneers contend in chorus that the law simply does not apply to them. They maintain that a single country like the U. S. has no right to try to regulate the Internet, which is a worldwide entity. At least one early cyberbookie isn't even an American citizen and runs his gaming operation in a fashion typical of online setups; although operated primarily from the U.S., it's officially headquartered offshore with a foreign government's blessing.
"They can go after the suppliers, but as long as these remain relatively small-scale operations in places like Sri Lanka or Belize, it will probably just bubble along the way little sportsbooks bubble along in the United States today," says Christiansen, who believes the overworked Justice Department will conclude that it's not worth the time and money to monitor people's living rooms and try to extradite a handful of small fish. Christiansen says the hype over online casinos is just that, hype. "These operations do supply some demand. But it is not commercially significant to anyone."
Kerry Rogers sees potential, though, and he is ready to withstand a barrage of resistance to set up his Internet sports gambling operation. "We spent a lot of energy passing a law in Belize, called the Computer Wager Licensing Act that makes it specifically legal in Belize to accept bets by the Internet," says Rogers, director of Global Gaming Services Ltd. of Belize, which operates WagerNet at http://www.wagernet.com. Similar to NASDAQ, which is a computerized system matching buyers and sellers of stock at an agreed price, WagerNet's system will match sports bettors with each other at whatever point spread both are willing to accept. WagerNet, as the "matchmaker," takes a 2.5 percent cut of the action, which the site boasts is less than the 10 percent fee charged by most bookmakers. WagerNet is not available via simple download; would-be bettors must first invest a $100 setup fee for special hardware and software to access the server.

The 38-year-old Rogers, who was raised and lives in Las Vegas, maintains that his proposed sportsbook is legal. The Minnesota Attorney General's office disagrees, and last summer filed a lawsuit alleging Rogers intends to run an illegal bookmaking operation via the Internet. "This is about money," Rogers says bluntly. "Obviously the state of Minnesota is not too concerned about people losing money when they took in $336 million in lottery revenues last year. The day I see a politician standing out next to a guy who is getting his house foreclosed on, ready to give him back all the money he put into the lottery, I will believe that."
Although it's unlikely that Minnesota is targeting Rogers because he threatens their lottery revenues, there is no denying that potential financial fortunes are at stake. Americans alone wagered $500 billion on legal gambling in 1994, leaving $40 billion behind at casinos, race tracks, state lotteries and Las Vegas bookmakers. It is difficult to estimate the untold millions lost on illegal games each year. Many, like Rogers, believe the Internet is the next wagering frontier. With a worldwide audience ready to be tapped, several experts have estimated that Internet gambling has the potential to be a $30 billion industry. Even a few sovereign governments have taken notice; the tiny European country of Lichtenstein runs several lottery games through its InterLotto site at http://www.interlotto.li/.
Although InterLotto is independently audited by Coopers & Lybrand International, much of the early gambling activity on the Internet is unregulated. The door is open to swindlers, who can easily rig the action. The legitimacy of several Internet gambling operators has already been called into question. In fact, WagerNet's Rogers is no stranger to Minnesota, the state that is suing him. Ten years ago, he served seven months in a federal penitentiary in Duluth, following a conviction as an accessory after the fact in a $22 million bank fraud scheme. Several reports suggest Rogers has organized crime connections, a notion he confronts with laughter. "There is no question that 10 years ago, I had a battle with the law," Rogers says. "I was young, and I paid the debt to society. It is one I don't think I owed, but the point now is that the safeguards are there. My knowledge as to the way the other side works probably makes it so that I can set up security systems that are more secure than anywhere." Still, Rogers' past would likely bar him from running a non-virtual U.S. casino.
That is a point not lost on Warren B. Eugene, a colorful Toronto businessman, who is the chairman of the Internet Casino, which operates at http://www.casino.org. "They are all gangsters," he says of his competitors, before pointing out that like InterLotto, he is audited by Coopers & Lybrand International. Eugene concedes the potential for rigged games at an unregulated Internet site. "The entire gaming industry, whether it be regulated or unregulated, is fraught with illegality," he rationalizes. "The truth of the matter is, there are plenty of people out there that do trust us. Those are our customers."
To further boost a perception of legitimacy, Eugene plans a public offering of stock in his company. The same tactic was used by a competitor, the Global Casino, which runs a sports wagering book, and has a proposed casino site at http://www.intersphere.com/bet/. Its parent company, International Gaming & Communications Corp., trades on NASDAQ, under SBET.

Despite the competition, Eugene hopes to be the first to establish an Internet gaming Mecca. His computerized sportsbook, lottery and casino, officially headquartered in the Caribbean's Turks and Caicos Islands, has grown slowly. Last football season, the sportsbook turned a $2.5 million profit, he says, and the casino, run by proprietary software, is testing 19 games, including craps, roulette, blackjack, slots, keno, poker and baccarat. Because of the unresolved legal issues he does not yet accept wagers from Americans, but Pachinko is up and running for Japanese bettors.
Will savvy gamblers want to bet with men like Eugene, whose site includes a winking picture of a monkey -- a joke portrait of him that people can click on to send him e-mail at bigkahuna@casino.org? The jury is still out. He is unquestionably a showman, but bristles at questions of his legitimacy, despite having been quoted referring to himself as "the Bugsy Siegel of the Internet."
"I have seen hundreds of prospectuses across my desk for Internet gaming operations," says wagering expert Christiansen, who points out that the large established casino companies have avoided the Internet out of concern about jeopardizing their gaming licenses. "This may really move forward, and if we come back five years from now, two or three of these little guys may have figured out a model that works, and established consumer credibility," he predicts.
Reformed gambler Wexler is praying Christiansen is wrong. As someone who knows the pitfalls of gambling in any forum, his advice is straightforward: "I think the safest thing you can do is just avoid these guys."